Zum Europäischen Tag der Sprachen haben wir einen Fotowettbewerb ausgeschrieben, und jetzt stehen die SiegerInnen fest!
Die TeilnehmerInnen des Wettbewerbs haben unsere Herausforderung angenommen, in einem Bild auszudrücken, was ihre Sprachen für sie bedeuten. Aus den Einsendungen haben wir zwei SiegerInnen ausgewählt, die sich über ein Abo der Sprachenlern-App Babbel freuen dürfen.
Na dann, without further ado:
Der zweite Platz geht an Chiara Piacenza, die uns mit ihrer kreativen Visualisierung ihrer Mehrsprachigkeit überzeugt hat. Lassen wir sie in ihren eigenen Worten erklären, was ihre Sprachen für sie bedeuten: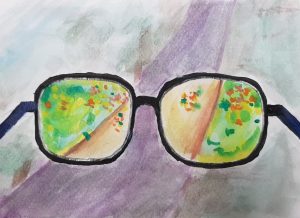 In quest'immagine possiamo osservare come attraverso un paio di occhiali il mondo non solo viene messo a fuoco, ma prende colore. Ogni lingua è un paio diverso di occhiali e più occhiali "possiedo" più il mondo diventa nitido e colorato.
Auf diesem Bild sehen wir, wie die Welt durch eine Brille nicht nur schärfer, sondern auch bunter wird. Jede Sprache, die wir beherrschen, ermöglicht uns die Welt mit anderen Brillen zu erleben und somit ist sie bunter und würziger.
Danke Chiara für diesen tollen Beitrag!
And the winner is… Jussi Rinta-Hoiska, der uns mit der Gegenüberstellung von zwei Fotos und zwei Perspektiven einen Aha-Effekt erleben hat lassen. Seht selbst: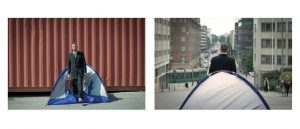 Dazu schreibt Jussi: From border to light. Rajalta valoon. 
Wir haben Jussi als Sieger ausgewählt, weil er uns zum Nachdenken gebracht hat, und weil wir so viele verschiedene Aspekte aus seinem Beitrag lesen konnten. Er zeigt, wie Sprachen Perspektiven und Lebenschancen verändern können. Kiitos Jussi für deinen Beitrag!
Wenn ihr euch von Chiara und Jussi inspiriert fühlt, meldet euch jederzeit mit euren eigenen Sprach-Erfahrungen!